"Fair Trials International"
Together with FTI we work to promote criminal justice reforms. Our partnership began in 2013 when we undertook a joint
research on pre-trial detention
in the EU and advocated for reducing the use of this meassure. We drew the Lithuanian authorities attention to the frequent use of pre-trial detention and contributed to the 2015 pre-trial detention reform.
"Victim Support Europe"
With VSE, a European network of victim support organisations, we work
on the implementation
of EU Victims Directive (2012). The progressive Directive established new standars for protection and support to victims of crime. The purpose of our cooperation is to ensure the Directive is efficiently applied and brings the most practical benefits to the victims.
Hungarian Helsinki Committee HHC is our partner in criminal justice work. We carry out research and advocacy to improve protection of the rights of suspects and accused. In 2016, we launched a joint initiative where we will develop and test an accesible "letter of rights" for suspects in criminal proceedings.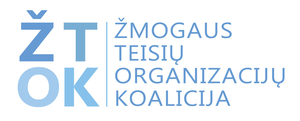 We are founding members of the Human Rights Organisations' Coalition (HROC) which was created in June 2011. Today HROC unites 8 non-governmental organizations working in the field of human rights and non-discrimination on a wide variety of grounds.
Other partners and colleagues